Welcome
Welcome to my website. As a Communications Counselor and Mediator, I enjoy successfully guiding clients to a deeper understanding of their lives, helping focus their planning for new levels of success and personal satisfaction. Each person is unique, as are their challenges and discoveries on the path to personal growth and well-being.
My work is to facilitate harmony among couples, parents and children, business associates, neighbors and friends. I also consult one-on-one with individuals who are longing for compassionate support for their life situations and to reconcile seemingly contradictory values and directions.
These sessions are largely inspired and guided by the relational skills of Nonviolent Communication (NVC) developed by Marshall Rosenberg, (www.cnvc.org). NVC enables effective communication. Individuals are deeply gratified when respect, insight and cooperation replace frustration, misunderstanding and blame.
Would you like:
To achieve a deeper connection and a more authentic relationship with certain
individuals in your life?
To discover a path for your organization to move beyond conflicting needs and values?
To find strategies and understanding for your own conflicting inclinations and directions?
What Is Nonviolent Communication?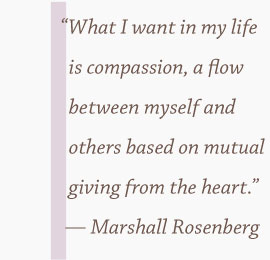 History: Nonviolent Communication is also called Compassionate Communication. It was developed by Dr. Marshall Rosenberg who grew up surrounded by both inflammatory social situations and profoundly compassionate relationships. He asked himself: Why this discrepancy? Why is it that some persons wish to do harm to one another, while others enjoy giving to one another? From his studies and investigations into human nature, Dr. Rosenberg concluded that it is basic to human nature to enjoy compassionate giving. He postulated that incendiary human encounters are due to fear fostered by faulty education and self-perpetuating circumstances. Once human beings understand that they can get their needs met through the method of Nonviolent Communication, conflict is transformed into understanding and positive strategies.
Name: The term, "nonviolence" was coined during the Ghandian and Civil Rights movement. It implies the absence of violence in thought and deed. We may be unhappy with the actions of another human being, yet we wish for the well-being of this person even when we are in opposing positions. Nonviolent Communication allows for all persons to attend to what is most important to them.
Process: The process of Nonviolent Communication involves honest expression of what is alive and vital within us. In order to be clear in our sharing with others what is important to us, we need to first become clear about what we are feeling and wishing for, what we value and need. This inner clarity also prepares us to hear without judgment and evaluation what is important to the other person(s) in the conversation. Anger, fear and pain are replaced with understanding and peace of mind. Through Nonviolent Communication we avoid unnecessary conflict, formulate workable strategies, and generate a basis for a deeper connection with others and ourselves.

I would enjoy meeting with you to advance these goals. Please contact me for a free consultation at gail@gailmcmanus.com or call me at 518 653-2957.